Here is a great article by Ron Brooks about hook selection:
Hooks are hooks in most people's mind. They figure they either need a big one or a small one, depending on the fish they are pursuing. Lots of anglers go though life completely missing the importance of using not only the right size hook, but probably most importantly the right type of hook.
Hook choice depends on several factors. Obviously, the smaller the fish, the smaller the hook required. What most anglers miss is, that line size, fish species, type of bait, and fishing structure play a major role in hook selection.
Have you ever fished next to someone who seemed to be catching three or four fish to your one? Perhaps your fish kept getting off before you got them to the boat, or your line kept hanging on the bottom while your neighbor never hung even once.
zSB(3,3)
It's not just pure fishing luck that makes the difference. Most of the time it's the hook choice you make.A thick forged hook is not the right choice. A thin aberdeen wire hook that can penetrate the hard inside of the mouth would be a better choice. A number 1 or 1/0 regular shank aberdeen works very well for these bait stealers.
Hook size is probably the first thing an angler thinks of when buying hooks. Most are smart enough to know which hook is the right size for the fish they are after. Sizes fro most manufacturers range from the very smallest freshwater trout hook at a number 32, to the very largest gamefish hook at 19/0. There is no world or industry standard method of measuring hooks, but here in the US, the measures go from the smallest size 32 (which is barely large enough to hold between two fingers) and count down. As the number decreases, the size increases all the way down to a number 1 hook. At this point the number changes to a designation of "aughts" or zeroes. A 1/0 (pronounced "one aught") hook is the next larger size to a number 1. A 2/0 is larger still, and this numbering scheme goes as high as 19/0.
The size breakdown from smallest to largest looks like this:32, 30, 28, 26, 24, 22, 20, 18, 16, 14, 12, 11, 10, 8, 6, 4, 2, 1, 1/0, 2/0, 3/0, 4/0, 5/0, 6/0, 7/0, 8/0, 9/0, 10/0, 11/0, 12/0, 13/0, 14/0, 15/0, 16/0, 17/0, 18/0, and 19/0
All of these hooks come in a short, regular, or long shank version. The shank of the hook is the part between the eye of the hook and the bend.
 Captain Chris's  Hook choices.
Here are the type of hooks I use on a daily basis  for North East Florida saltwater inshore fish.
 The Circle hook: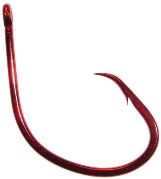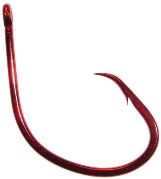 Daiichi  D85Z Circle Wide
 Perhaps the best innovation in hooks to come along, circle hooks promote healthy catch and release. The design of the hook itself, when used properly, prevents fish from being hooked in the gut. Many anglers have a problem using these hooks because they require no hook set. If you do try to set the hook, it will generally come out of the mouth of the fish. These hooks are designed to move to the corner of the fish's mouth and set themselves as the fish swims away from you. Anglers feel a bite and simply begin reeling, slowly at first, then faster as the hook gets set. (by Ron Brooks)
 The size of of Circle hook I use depends on size of bait I am using but the most common is a 1/0 Daiichi D85Z Circle wide. This hook will work fine with medium shrimp, select shrimp and finger mullet.
 Circle hookis best used for: Redfish, Trout, Snook, Tarpon, Jacks, Bluefish
The J-Hook:
Daiichi D16Z  Octopus wide, Bleeding bait hook
The Daiichi  1/0 D16Z Octopus wide replaces the 1/0 circle hookfor those anglers that cannot resist setting the hook or when fishing for certain species where a circle hook will not work as good. (example: Sheephead, flounder)
Octopus Wide (J-Hook) is best used for: Sheephead, Flounder, Redfish, Snook, Trout
The Jighead:
RipTide Pro Jigheads
One of the most versatile  hooks is a Jighead. You can use a jighead with shrimp, mullet, mud minnows, cut bait and soft plastics for all inshore species that are targeted in deep or shallow water.